2021 Tournament Updates
Hello GGSO Community,
We hope that you all are staying safe and looking after your health during these trying times. As you may know, the Golden Gate Invitational takes place on UC Berkeley's campus in the winter, and this season, we will host the tournament on February 21, 2021. However, given the uncertainty of how COVID-19 will progress over the course of the year, there are several different forms that the tournament could be in. Please be assured that we will be hosting Golden Gate Invitational this season in some capacity in light of current events, and we are committed to prioritizing participants' health and safety while maintaining the integrity of the competition and following the National Science Olympiad guidelines.
We have currently identified four different mediums through which we can host GGSO. The first, and the most ideal case is the fully on-campus form called Gold SO. In the case that GGSO cannot be held on-campus, we are considering the possibility of hosting a remote tournament, whether it be from competitors' homes, their schools, or a hybrid model with a limited number of teams on campus and the rest competing from their schools.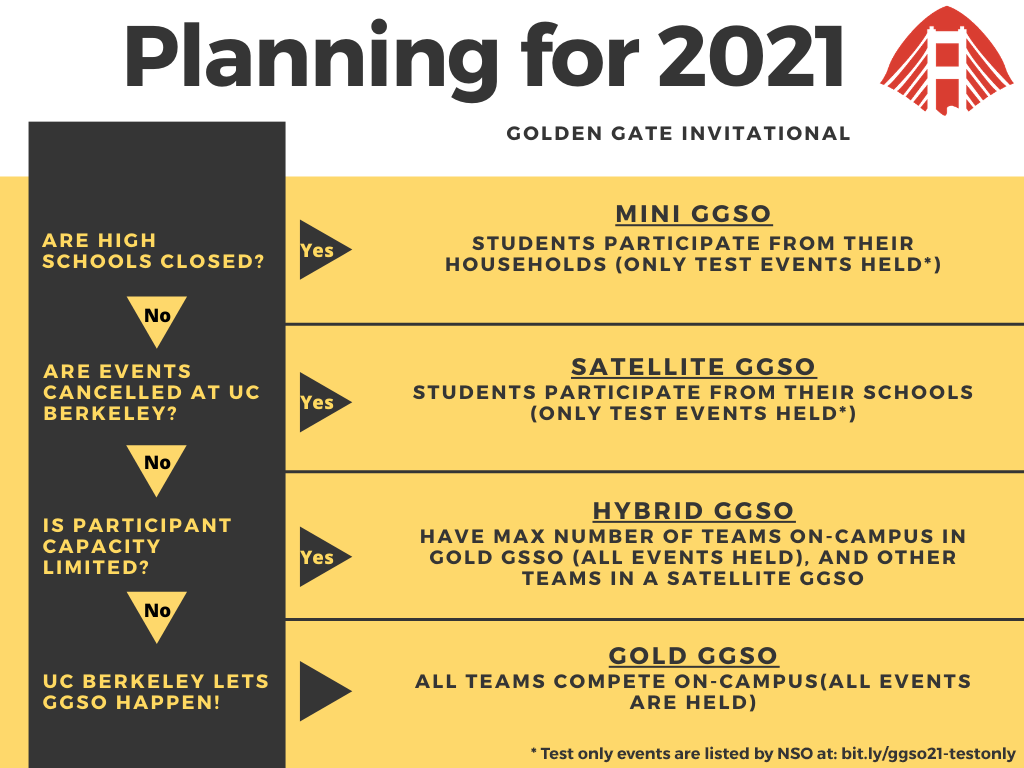 An initial guide of information detailing the specifics of our possible plans regarding the tournament can be found here. While it is not completely comprehensive yet, please make sure to read it thoroughly. In order to continue planning specific details of the tournament and release an official plan by September, we urge you to provide as much feedback as possible through this form. The goals of GGSO are to serve our greater Science Olympiad community, so any information you can provide will allow us to make better informed decisions. We will be updating the plan document throughout the summer based on the insights we receive from parents, students, and coaches. Your feedback will ultimately help us choose a tournament plan that will be conducive and beneficial for the most people.
Best wishes,
The GGSO Team
Links
Email us